How to use a Bitcoin wallet
A Bitcoin wallet is a software or hardware device that is used to store Bitcoins. Bitcoin wallets are usually encrypted with private and public keys that ensure that the Bitcoins stored in the wallet are only accessible to the owner of the wallet.
Beyond storing Bitcoins, a Bitcoin wallet also lets its owner send and receive Bitcoin from other wallets securely.
Getting a bitcoin wallet is simple. The first thing you will need is to create a Yellow Card account. Once you have an account created, you are ready to go. Let's walk you through on why you need one, how to send & receive bitcoins and how you can keep your wallet safe.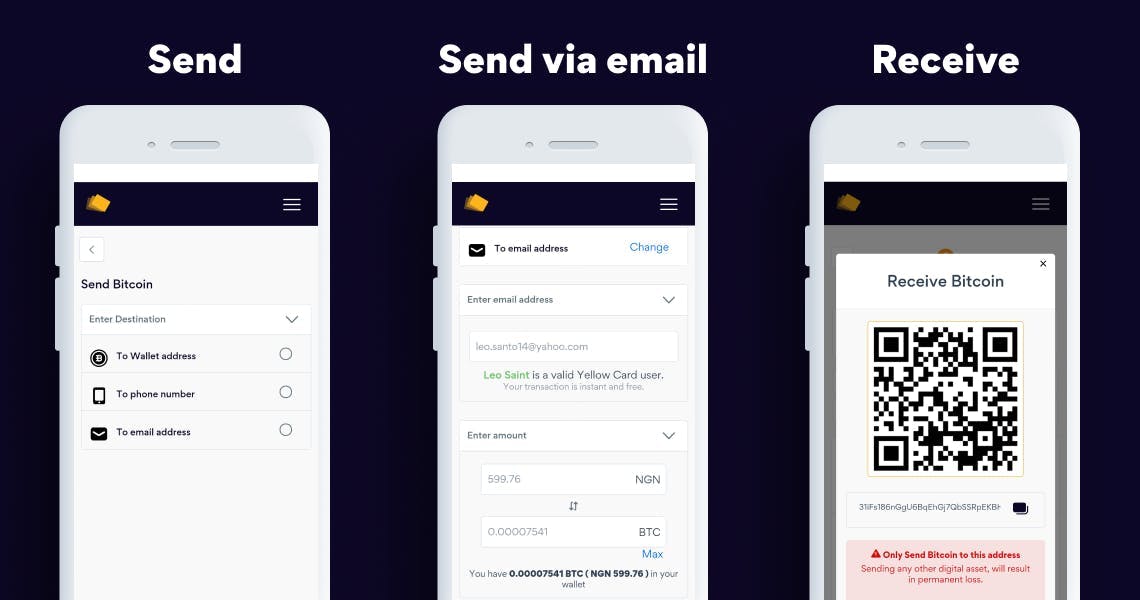 Why you need a Bitcoin Wallet
A lot of people ask why they need a Bitcoin wallet. Great question!
When you buy Bitcoin on any exchange platform or someone wants to send you Bitcoin, you need a Bitcoin wallet to receive it. You can think of it as the virtual equivalent of your physical wallet where you store your cash and IDs. However, a Bitcoin wallet is designed specifically to old tokens of Bitcoin; sending any other form of cryptocurrency to your Bitcoin wallet will amount to you losing that cryptocurrency.
But more than just the virtual equivalent of a physical wallet, a Bitcoin wallet can also be likened to a vault. Protected by cryptographic codes, your Bitcoin wallet is encrypted so that your funds are only accessible to you. Unlike a physical wallet that once stolen, its contents are compromised, your Bitcoin wallet is only accessible when you unlock it with what is known as a Private Key.
Each wallet has a unique address known as your Wallet Address. With this address, friends or family can send Bitcoin to you. Your Bitcoin wallet is smart - it keeps a record of all Bitcoins you send and receive. The wallet page shows you all your recent and existing transaction history, so you know exactly when you send and receive Bitcoin.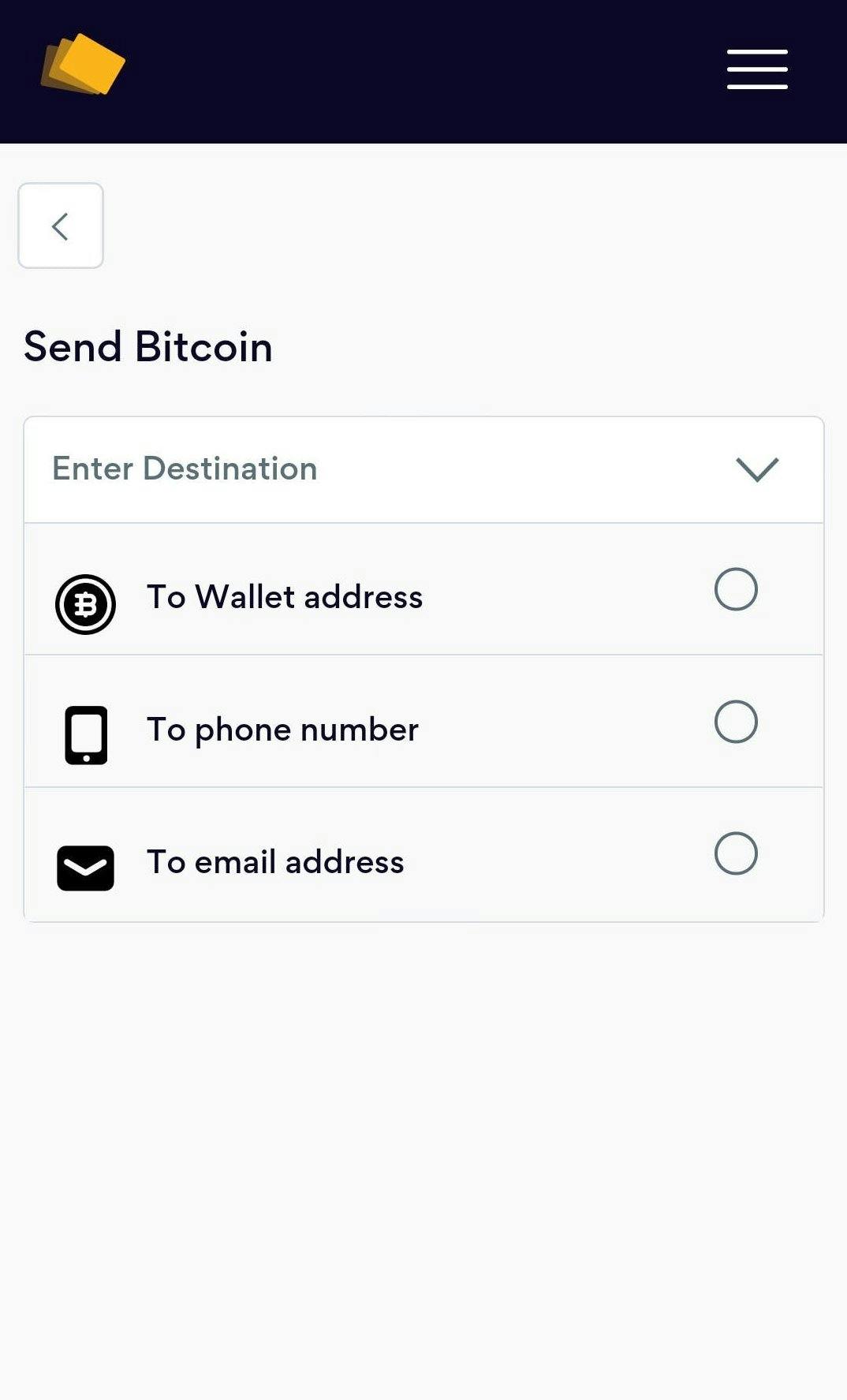 How to send Bitcoin with Yellow Card Wallet
Sending Bitcoin with Yellow Card is easy and straightforward.
Once your wallet has been funded with your local currency and you've bought Bitcoin, here's how to send Bitcoin:
Login to your Yellow Card Wallet.
Select Bitcoin from the list of supported cryptocurrencies
Select "Send" and choose a destination to send Bitcoin to:
- Select Wallet Address to send Bitcoin if you have the wallet address of the recipient. This option is great if the recipient is using another wallet other than Yellow Card.
- If you are sending Bitcoin to another Yellow Card user, you do not need their wallet address. Select Phone number or Email address to instantly send Bitcoin to their wallet. You should see the user's name if they are a valid Yellow Card user.
How to receive Bitcoin with Yellow Card Wallet
It's way easier! Follow through, we've got you covered.
Login to your Yellow Card wallet.
Go to your Bitcoin wallet by selecting the "Wallet" tab
Select "Receive". This brings up a QR code and the wallet address. Copy your wallet address and share it with the Bitcoin sender.
Ensure to only send Bitcoin to this address.
To confirm you have received your bitcoin, You will get a notification in your wallet.
Safety tips to ensure your Bitcoin is safe
We know your bitcoin is precious, we wouldn't let you go without a few tips on how to keep them safe in your wallet. Here are 5 safety tips curated with love from us.
Watch out for phishing scams
Phishing scams are a common technique used by hackers to spoof a website, then steal your data when you enter it. Be sure that you are on the correct link or the official app before entering your information. You can also use a browser extension like Phishfort, to detect if you are on the official site.
Keep your device protected
Be careful not to install any software you don't trust. Also, avoid downloading any suspicious documents or attachments. Do your research before you download any software you are unsure of. Do routine antivirus scans and make sure to have your firewall enabled.
Enable two-factor authentication
Two-factor authentication (2FA) adds another layer of security to your account. It enables account owners to verify a login attempt. To set up a 2FA you will need your mobile number or email address. Just having your password would not be enough to access your account, a random pin would also have to be entered. This makes it a lot harder for a hacker to access your account.
Use a difficult password
It is important to create a very strong password when creating an account on a crypto exchange platform. Use a combination of lower and upper case letters, numbers, and symbols. You can also make use of mnemonics to fashion and recollect super-secure passwords. Be sure to store your password in a safe place and change them frequently.
Avoid public WiFi
Wifi hosts can potentially collect data transmitted over the network, this includes passwords and sensitive information. Public WiFis are wireless networks with no encryption, which makes it unsafe. If you are accessing your wallet from a public network, we recommend you use a VPN.