Crypto Symposium: The Cryptocurrency Business Opportunity
Back to blog
The world of cryptocurrency is moving fast, with new opportunities presented at every corner. But navigating and understanding cryptocurrency can sometimes feel like a challenge. 
As a means to help people better understand this space, Yellow Card has made it one of their key mandates to engage with the community, provide resources for education and networking opportunities to enhance one's knowledge of cryptocurrency. 
On Saturday, 11 September 2021 at 10:00 AM (WAT), Yellow Card will host a Crypto Symposium themed "Cryptocurrency as a New Opportunity for Business".
The in-person event, which will be held at Somatel Hotel Biyem-assi, Yaoundé, will feature prominent leaders in cryptocurrency who will share their insights on the business opportunity within the space. The speakers include:
Tasha Shengwe, Marketing Manager of Yellow Card 
Achuo Karl Etigha, Founder and CEO of OPT Networks
Rimsky Cho, CEO and of CreativMoney Africa  CTO of Blockchain Association of Cameroon
Rex Asongwe Tarke, Founder and CEO of Extreme Markets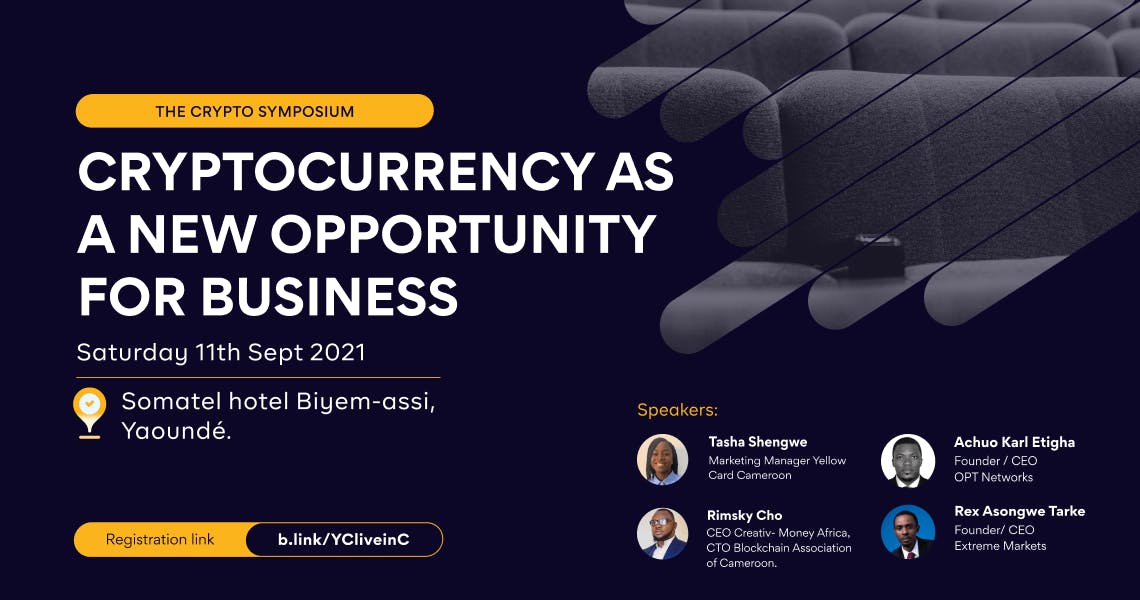 Tasha Shengwe, Marketing Manager at Yellow Card based in Cameroon, says one of the biggest benefits of crypto is the decentralized nature of the space which is beneficial to businesses, especially international businesses.
"The fact that crypto is being accepted in multiple economies around the world on a daily basis, gives business men and women a huge range of opportunities in maintaining a stable value increase in their investments," she says. 
Attendees can expect to learn strategies that will help them create wealth while utilizing cryptocurrencies within their business as well as how to build a career in the industry.
Whether you're new to trading or a well-versed in crypto, you will certainly gain a lot from attending the event as there is so much to be discovered about the business opportunity in cryptocurrency. 
Don't wait, register for the event today at Eventbrite. 
Sign up for our weekly newsletter
Similar posts
Recommended for you based on the article you just completed
---