How to invest in cryptocurrency as a beginner
If you are here, your interest must have been piqued by the benefits of Bitcoin and cryptocurrency investment and how it is a good way to start planning for your future. Here, we will show you how to get started as a beginner.
There are over 5000 cryptocurrencies already and more are being created. But as more are created, some are also going out of the market. This is why it is important to understand what each crypto you will be trading in is used for, why it was created, its market cap, as well as other useful information that will help you make informed decisions.
Even if you would be trading various cryptocurrencies, the best place to start is with Bitcoin. This is because Bitcoin is the oldest and original cryptocurrency. Its reach has spread wide and far and more people have adopted it, making it easy for anyone to easily find as much material and a bit of data to inform you of what to do as a beginner.
Ready to invest in crypto? Here's how to go about it:
1. Understand how cryptocurrency works
It is not sufficient that you have traded stock and forex to make you dive headlong into trading cryptocurrencies. It is important to understand the basics of whichever crypto you want to trade.
For instance, Ripple (XRP) enables a seamless transfer of money in any form (be it USD, Yen, or even Bitcoin) or commodities (like Gold or oil) over the Ripple network. While Bitcoin aims to remove middlemen like banks, Ripple is mostly used by banks to make international payments.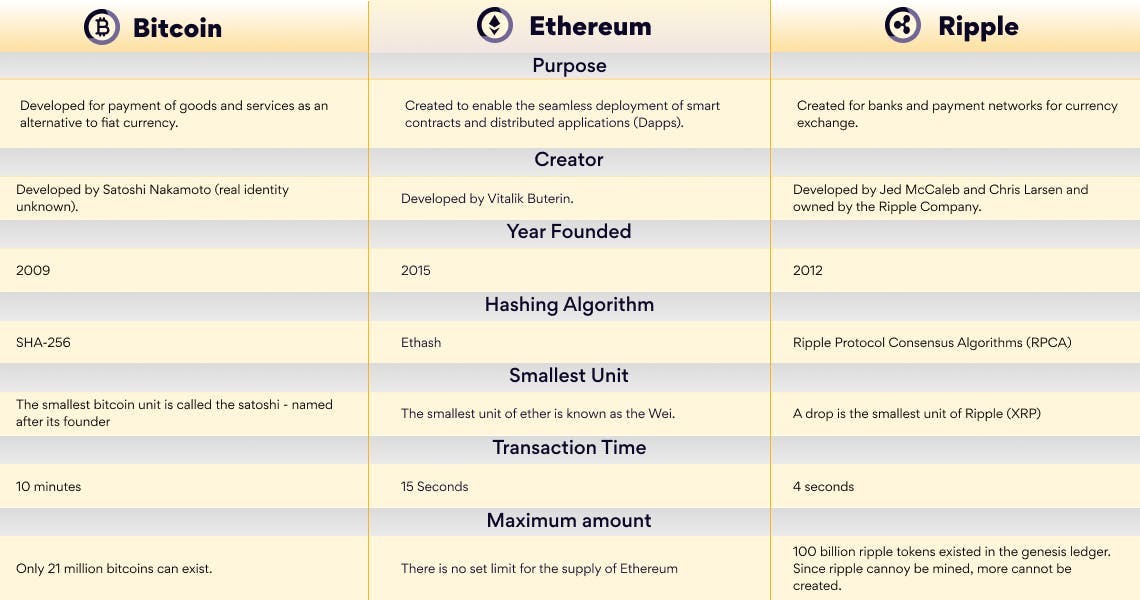 Comparison between Bitcoin, Ripple and Ethereum.
The purpose of a cryptocurrency, amongst other things, would affect its performance.
Also, as most cryptocurrencies operate on blockchain technology, it is helpful to know how it actually works. Trading cryptocurrency is not a decision anyone should make hastily because of the hype around it.
Once you understand how crypto works, you can now move on to actually buying cryptocurrency.
2. Choose a fiat to crypto exchange platform
To buy bitcoin or any other cryptocurrency you need to find a crypto exchange platform that allows you to buy Bitcoin with your local currency.
While there are a number of platforms that offer this service, it is important to watch out for crypto rates, transaction fees and the payment options offered by the platforms.
On Yellow Card, for instance, we allow our users to pay for Bitcoin and other cryptocurrencies online via bank transfer or with a debit or credit card. Nigerians can buy bitcoin with cash from any of our over 30,000 merchants around the country.
Once, you've checked that the rates and fees are satisfactory to you, you can then proceed to fund your account and purchase Bitcoin or any other crypto of your choice.
3. Choose a crypto trading platform
Now that you have bought your first crypto, the next step is to find a crypto trading platform. While some trading platforms allow you to buy crypto directly with your local currency, as it is mainly a trading platform, the rates are usually higher.
Besides, it is best to have a Bitcoin wallet where you are sure your funds are safe so that if you need to trade, you can transfer the amount you intend to trade with to the trading platform.
We have written extensively on how to choose the right crypto platform for trading. The guide will ensure that you make the right choice before you commit to a platform. And once you've chosen a trading platform, you are ready to start trading cryptocurrencies.
You should note that as a beginner, there are trading tips you should learn that will help you not lose your money as you begin to invest in cryptocurrencies.
Ready to start trading? Yellow Card allows you to buy Bitcoin and transfer to your wallet on any trading platform.