Cryptocurrency trading tips you need to know
Insights
Back to blog

Joel O.
August, 22 2022
Insights
---
On this page
One of the most important tips to keep in mind when trading cryptocurrency is to remember to manage your risks. Here's how to do that.
Investing in cryptocurrency is exciting, we know! This in part is due to the growing crypto market has seen an increase in activity around top cryptocurrencies around the world.
This increased activity tells us that more people now believe that cryptocurrency is the future, and have experienced the advantage of using crypto over the traditional banking system for fast transactions at lower trading fees and the privacy it offers.
The ease of also entering the cryptocurrency trade market is another reason why many people are flocking to it. From buying cryptocurrency with local currencies to finding a trading platform that allows even beginners to trade safely, the crypto space just keeps getting attractive.
More importantly, beyond its use as a means of exchange, the technology on which most cryptocurrencies are built - the blockchain - has immense potential to transform other sectors beyond the financial sector, such as health, education, transportation and logistics.
This only buttresses the point that investing in cryptocurrency is a worthwhile investment. And we have seen this in the rising market cap of top cryptocurrencies over the years.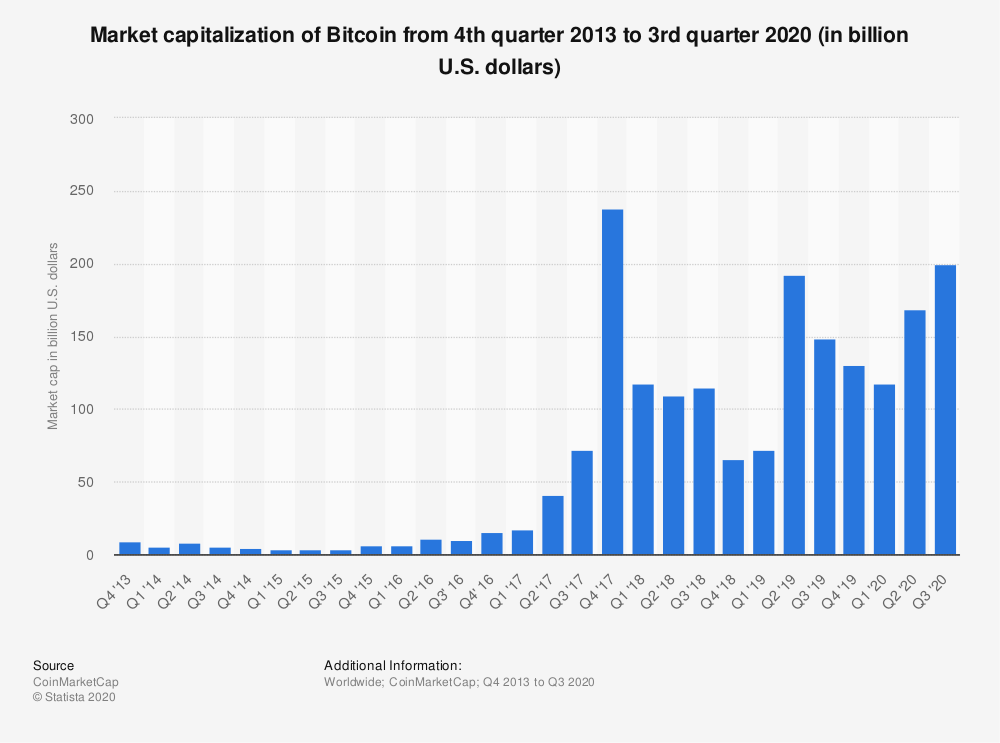 Bitcoin capitalisation 2013-2020 (Statista 2020)
In the second quarter of 2017, for instance, the market capitalization of Bitcoin was 109.67 billion US dollars. Despite the volatility of the crypto space, as at the second quarter of 2020, its market cap had risen to 168.32 billion US dollars and even higher still to 199.62 billion US dollars as at the end of the third quarter.
Really, the volatility of cryptocurrencies is a major reason why many people trade cryptocurrency. This is because volatility in the crypto space means there are more entry and exit opportunities for traders.
What that means is that as a trader you don't have to wait too long before you can enter a particular market, make your profit and exit the market.
However, this same volatility is one of the main reasons why new traders should be careful before they start trading. Here we highlight the most important tips to know that will guide any trader as they trade in cryptocurrency.
1. Manage your risks
There are various strategies employed by traders and investors to manage their risks. Mostly, it depends on your risk tolerance but what matters is to ensure that you have checks in place to protect you from losing all your investment. Here are some of the most common strategies used by top traders:
Stop loss and take profit: Stop loss is an order to sell a crypto asset when it reaches a particular price point in order to prevent further loss while take profit is an order to sell an asset when its price rises to a certain point. Stop loss helps you manage your losses while Take Profit ensures you make money on your open orders when the price rises.

Risk/Reward ratio: This involves comparing the expected return from a trade you are about to make with the risk you are taken. Basically, the higher the risk, the higher the reward. Understanding the relationship between the risk you are about to take and the expected return will help you enter the trade better prepared.
The risk/reward ratio is calculated by dividing your potential reward by the price of your maximum risk. That is

(Target - Entry) / (Entry - Stop Loss)

Where the Target Price is the price you expect the asset to reach
Entry Price is the current price at which you enter the market
Stop Loss is the limit you set for your asset to be sold if the price falls.


Set a profit target: Setting a profit target before entering a trade helps you ensure to be focused and not get carried away by price fluctuations. When you enter a trade with a purpose, you can properly manage your risk because once your purpose is achieved, it becomes easy to exit.
2. Only invest what you are willing to lose
This is perhaps the most important tip in investing. It is also a way to manage your risks. As the market is not predictable and thus can change anytime, it is strongly advised that investors should only invest what they can afford to lose.
That means, don't put your entire earning into investments if you can't afford to lose it. Usually, people take a particular percentage of their earnings and put it into investment. This is, however, an individual decision. The important thing is to invest wisely.
3. Diversify
It is important to diversify your investment because if one market drops, your whole investment does not suffer.  This could mean trading in more than one crypto asset. But it also means not trading only in crypto but also in stock, forex or any other market you are comfortable with.
The more you trade the better you understand the market and make smarter decisions. It, however, requires that you source for relevant information pertaining to the market to better help your decision-making process.