How To Buy Bitcoin in Nigeria
Guides
Back to blog

Favour
September, 20 2022
Guides
---
On this page
Buying bitcoin on Yellow Card's secure platform is simple and quick. Learn how to buy bitcoin in three easy steps.
Cryptocurrencies are sweeping the globe, with Chain analysis reporting a 1200 per cent increase in crypto growth in Africa in 2021. Nigeria has been ahead of the game in crypto adoption and expansion, becoming the second-largest crypto market after the United States. Nigerians have been able to meet their financial needs and generate a source of income with Bitcoin adoption and use. 
The CBN's proclamation prohibiting financial institutions from assisting crypto transactions, on the other hand, was a stumbling block for Nigerians. However, Nigerians have successfully overcome this restriction by using peer-to-peer (P2P). Nigerians can be able to execute crypto transactions by acquiring cryptocurrencies directly from their peers using local fiat money, naira, or other cryptocurrencies with P2P. 
However, P2P has revealed new challenges, making it even more complex and posing financial concerns, which bitcoin intends to address. Nigerians have lost money due to a variety of factors, including third-party fraud, failure to complete transactions after payment, and third-party incompetence in completing transactions on time, all of which can result in profit loss. Another issue has been finding buyers or sellers at reasonable prices. This has posed a significant challenge for Nigerians, discouraging many from using bitcoin and several suffering losses as well.
The Bitcoin Era in Nigeria
Did you know that it is now possible to buy Bitcoin in Nigeria in less than three minutes from start to finish? This is how much progress has been made over the past couple of years. Despite the limitations on the use of bitcoin and other cryptocurrencies by the government on banks within the country, crypto has made a lot of significant progress so far.
In a report titled, "What Does the Future Hold for Crypto Exchanges,"  by Bitget, in conjunction with Boston Consulting Group (BCG) and crypto-focused investment firm, Foresight Ventures, Nigeria has the highest crypto penetration In Africa at 40%. The report also ranked Nigeria as the second largest cryptocurrency market in Africa, behind South Africa.
Just a few years ago, not many people knew or used bitcoin in Nigeria and today, it is one of the most highly traded and used assets among the populace for investment, savings, work and transactional purposes.
How to Buy Bitcoin Safely in Nigeria
When looking for the best place to buy bitcoin in Nigeria, due diligence is key as there are a lot of unregulated and unregistered scammers posing as legit crypto exchanges to buy bitcoin in Nigeria.
To stay safe, the first thing that you can do to ensure you buy bitcoin safely is to buy through a reputable crypto exchange that is adequately licensed, has known founders, and track records. This is why we highly recommend you always buy bitcoin on Yellow Card.
With a presence in over 16 African countries and counting, you can be sure Yellow Card is here for the long haul. Yellow Card also makes transactions and payments to other African countries possible through its product Yellow Pay. With Yellow Pay, you can now easily send money across Africa from one local currency to another in Africa where Yellow Card exists without worrying about conversion hurdles.
Once you sign up on Yellow Card, you get access to a secure wallet to keep your funds safe. Yellow Card adds an extra layer of security with the Two Factor Authentication feature, keeping your mind at peace always.
Yellow Card, A Safe Hub For Nigerians To Buy Bitcoin
Yellow Card is one of the best crypto exchanges to sell and buy bitcoin in Nigeria. With a presence in over 16 African countries, Yellow Card is doing the most by offering financial inclusion in Africa and making crypto adoption safer and better on the continent. Yellow Card has successfully and systematically found a way for Nigerians to conveniently and securely access cryptocurrencies through its Peer-2-Peer and OTC Trading. With Yellow Card, you can be sure of:
The security of your asset
Yellow Card ensures the protection of your assets and protects you from P2P-related fraud. The Yellow Card platform is built from the ground up with the most advanced security features to keep your crypto assets safe. You may also rest confident that you will receive your assets without the danger of being scammed with the Yellow Card P2P after a transaction is confirmed.
Fast and prompt transaction completion
Crypto traders have suffered losses due to transaction delays and an inability to connect with a suitable buyer or seller. Your purchases are handled instantly and at the best rates when you use Yellow Card.
Convenient and easy way to buy and sell bitcoin
Yellow Card makes it super, with only a few steps required to buy and sell bitcoin. In only a few minutes, you can buy bitcoin from any internet-connected device. Yellow Card also offers an around-the-clock customer support experience, allowing you to conveniently conduct transactions with the assistance of the top customer service agents available to assist you.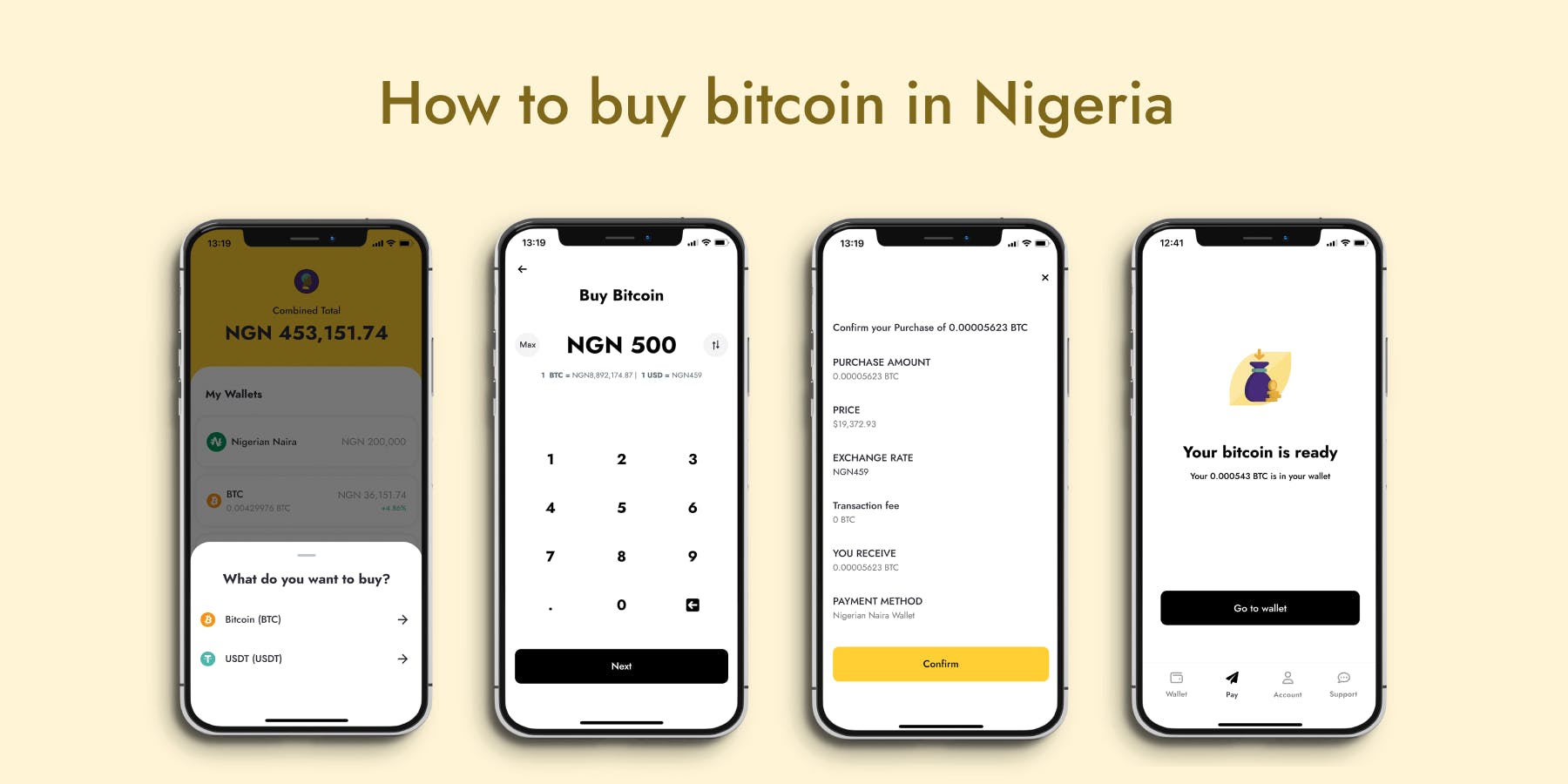 How to buy bitcoin with Yellow Card
To buy bitcoin on Yellow Card, follow these simple steps:
Sign up for a Yellow Card account and verify your details. 
Signing up for a Yellow Card account is free and fast. All you have to do is provide your information on the official Yellow Card website at web.yellowcard.io on your device. The Yellow Card app is also available on the App Store for iOS devices and Play Store for Android.

Fund your wallet with Naira
Click on the deposit button and Select the Payment method "Peer to peer."
Indicate the amount you wish to deposit and confirm the deposit
(Note that the minimum amount you can deposit is N500)
A pop up would appear immediately; click on find a match
Once a match has been found, you will be provided with the match's full name and account details. Transfer the amount to the account displayed on your screen. Only send the amount displayed, or your transaction will be unsuccessful.
Click on I have completed the transfer. Do not click on I have completed the transfer if you have not initiated the transfer.
3. Buy Bitcoin
Once your account has been funded, you can purchase bitcoin instantly. Select the "Buy Bitcoin" option in your bitcoin wallet and input the amount of bitcoin you want to buy on the buy screen.
You can either enter the amount in bitcoins or the amount in naira that you want to purchase. A live bitcoin exchange rate is provided above. This can be used to determine the naira value of the bitcoin you want to purchase. After you've confirmed your order, place the buy order. After the buy order is confirmed, your bitcoin will appear in your wallet immediately. Remember that the funds in the wallet are yours and yours alone, and you can sell or withdraw your funds at any time of your choosing. 
How to Sell Bitcoin for Naira with Yellow Card
Many individuals have turned to Yellow Card to buy and sell bitcoin because of the incredible rates they provide, which has solved the problems Nigerians face when seeking buyers or sellers. Selling your bitcoin is fast and easy with Yellow Card. All you have to do is,
Sign in to your Yellow Card account.
From your dashboard, select " Bitcoin", and your bitcoin holdings will be displayed.
Click on "Trade" and select "Sell Bitcoin for cash."
Indicate how much bitcoin you would like to sell and click "continue."
Confirm the transaction
Confirm by clicking Sell 
You have successfully sold your Bitcoin to Yellow Card
The amount would instantly reflect in your Naira wallet
How to Withdraw your funds from your Yellow Card account
Withdrawing your funds from your Yellow Card is easy and quick to complete. To withdraw your funds from Yellow Card:
Log into your Yellow Card account
Click on Withdraw
Indicate the amount you would like to withdraw and select "continue."
Select the bank you would like to send your money to. You would be asked to add your bank details if you haven't done that before. 
Enter your transaction pin and click "find a match"
The funds will reflect in your bank account immediately after the transaction is confirmed. 
Should I buy bitcoin?
Nigeria stands tall in Africa as one of the most populous and crypto-engaging countries in Africa and the world at large. The high number of youths has contributed to the huge adoption of cryptocurrency within the country. These and more are what set it apart as a pivotal nation to benefit from the richness of digital currencies.
As the world goes digital, digital currency usage and adoption will increase with more countries like El Salvador and the Central African Republic making bitcoin legal tender. Quite recently, the Nigerian government developed the e-naira in tune with the digital possibility that was imminent.
People buy cryptocurrencies for different reasons, such as investment purposes, currency depreciation hedges, ease of transactions, and to make financial inclusion a reality. So, irrespective of the short-term barriers or challenges faced by crypto, your purpose should be a major decider.
So far, with all economic indicators, bitcoin and other digital currencies seem like they've come to stay.
Yellow Card is dedicated to ensuring that Nigerians enjoy an easier alternative to buy bitcoin. With Yellow Card,  you will access a simple, quick, and secure way to buy and sell bitcoin at the best rate.