Why Is Bitcoin Trading Growing Rapidly in Africa?
Insights
Back to blog

Morris
August, 21 2022
Insights
---
On this page
Crypto adoption in Africa grew 1200% between July 2020 and June 2021, making it the fastest adoption rate in the world. Learn why bitcoin trading is fast growing in Africa and how you can benefit from bitcoin.
At this point, most of us have heard about Bitcoin despite our varied comprehension of this virtual or digital currency. Many may have developed interest in the premier cryptocurrency in the last few weeks owing to the recent crypto market crash. As of 15th June 2022, Bitcoin price has plummeted to an 18-month low reaching $21,179.20 yet in November last year the price of Bitcoin was retailing at $68,990 the highest price point ever for the cryptocurrency. Evidently, anyone dealing with cryptocurrencies or bitcoin specifically will attest to the unexpected volatility nature of this nascent industry now over a decade old since the inception of Bitcoin by Satoshi Nakamoto.
This is not the first time the price of the most popular cryptocurrency is plummeting. A notable instance was the period between 2013 and 2015 when the price of this digital asset fell from $1,127 to $200 representing an 82 percent drop in its price. The current cycle represents a 63 percent decline in price comparing the all-time high price point of $69,000 and $25,558. Amidst these market cycles, Bitcoin trading in Africa continues to soar year on year, more so examining data available from the last three years. For instance, Africa's cryptocurrency adoption grew by 1200% last year alone with the global adoption rate at 881% according to a report published by ChainAnalysis. A closer look at the report reveals Kenya and Nigeria lead in cryptocurrency adoption (peer-to-peer exchange trade volume) not only on the continent but across emerging markets.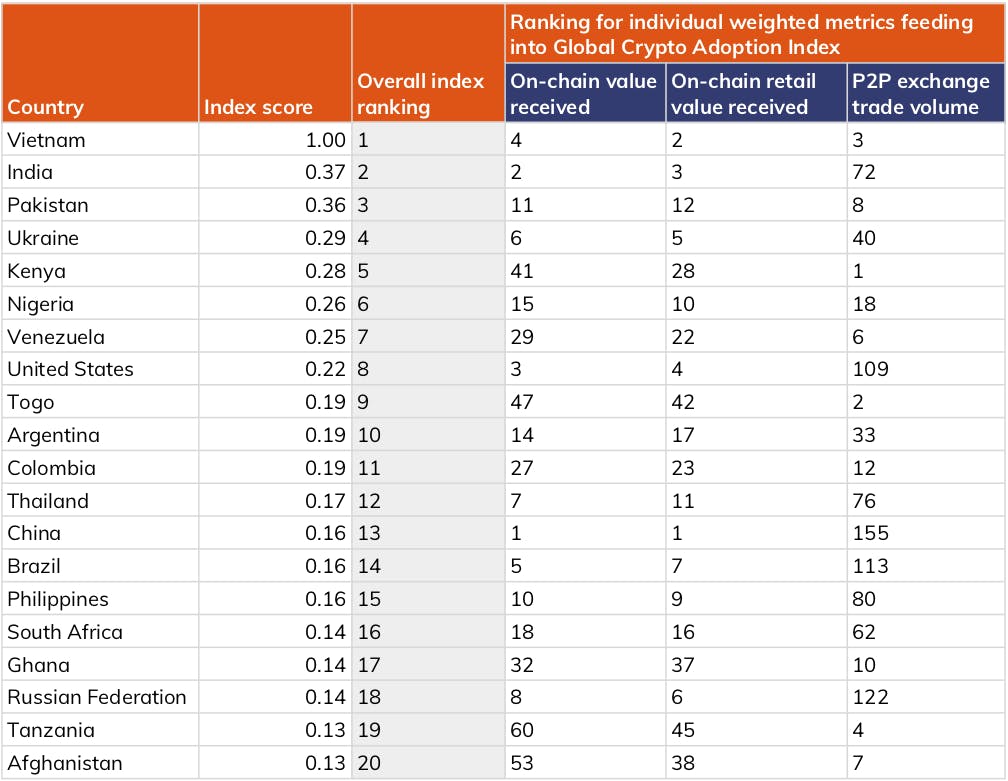 So far, only a small portion of the population represents the adoption of crypto in Africa.  If this trend continues, Africa is poised to be the next frontier of cryptocurrency adoption. Comparing the number of cryptocurrency owners against countries' entire population across leading markets on the continent reveals that only 8.52% of Kenya's population are actively involved in crypto trading. South Africa, Nigeria, and Ghana follow closely at 7.11, 6.31, and 3.01 percent respectively.  At this juncture, one would be curious to know what informs this huge adoption of crypto across Africa even ahead of leading global markets.
Young and Literate Population
Africa is the second most populous continent, just after Asia, with 1.38 billion people. A report by Mo Ibrahim Foundation indicates that 60 percent of Africa's population is below the age of 25, with the average age standing at 18 years. Similarly, literacy rates across the Sub-Saharan region have been upward, rising from 64.09 per cent in 2014 to 65.58 in 2017.  A closer look at countries leading with high literacy rates across this region includes Zimbabwe, South Africa, and Kenya at 89, 87, and 82 percent, respectively.
Contrastingly, more than half of African graduates remain unemployed, with the majority living in urban areas in pursuit of gainful employment. Most of these youths are keen on new income opportunities and this has drawn them to Bitcoin trading opportunities. Young and budding entrepreneurs are leveraging income opportunities available in the crypto world with some practicing bitcoin arbitrage trading, and merchants accepting different cryptocurrencies as a medium of exchange.
Financial Exclusion
Access to financial products and services remains a serious challenge for many African citizens. More than 60 per cent of the population remain unbanked despite financial inclusion being one of the 17 sustainable development goals (SDGs) aimed at eradicating extreme poverty and bolstering shared prosperity across the world.
Among the reasons leading to financial exclusion in Africa include the high level of bureaucracy practiced by financial institutions and the cost to access or transact using an intermediary account. For example, in Kenya, it is a tedious process for a bank user to transact any amount exceeding Kes 1 million or $10,000, that involves seeking approval from the institution's management to move such funds. Research by an investment tech and business site, The Exchange, found out the cost of banking in Kenya stands at an average of $45 per year, a factor that contributes to a lot of banks losing their customers.
On the other hand, is an option of using bitcoin as a means of payment with little or no documentation required and almost zero cost depending on available options to move funds in cryptocurrencies.
Inflation
High inflation rates and weak national currencies are major economic issues facing most nations across Africa. Among countries with the highest inflation rates include Sudan, Zimbabwe, Ethiopia, Ghana, and Nigeria at 245.1, 86.7, 34.5, 16.3, and 16.1 percent respectively. Rising inflation rates dwindle the performance of any economy's financial sector hence, pushing investors to seek alternative investment options.
Traditionally, gold and the US dollar were the safe-haven assets to hedge against rising inflations, however, the introduction of cryptocurrencies such as Bitcoin and USDT (the latter is a stable coin pegged to the value of the USD) offer more investment alternatives to investors in an economy. Apparently, the leading countries with increased bitcoin trading activities are also experiencing a sudden jump in their inflation rates including Kenya at 7.2% (2022) from 5.40% (2020), and Nigeria at 11.40% (2020) to 16.1% (2022). In 2015, Zimbabwe experienced soaring hyperinflation rates forcing the government to print $100 trillion notes which forced some of the country's citizens to turn to trading bitcoin as an avenue to hold wealth.
Mobile Money Experience
Mobile money continues to transform lives across Africa with more than 60 percent of the global mobile money transactions occurring through Africa's based platforms. The use of mobile money has also been aided by the impressive penetration rate of mobile phones across the internet. The International Telecommunication Union (ITU) reports more than 80.8 percent of Africans own or have access to a mobile phone.
Additionally, the majority of Africans have access to the internet which makes it easy to connect with the outside world and learn about emerging technologies and concepts such as Bitcoin trading. All this coupled with the ability to easily convert crypto assets into fiat more so, using the mobile money option has made it for interested people to engage in crypto earning activities.
Conclusion
Wrapping things up, it is important to note the Bitcoin ecosystem is ever-evolving and no one can certainly predict its future. However, as long as the technology is here with us many opportunities will keep becoming available for the African continent to explore. The rule of thumb in the crypto space is always Do Your Own Research before making financial decisions.