Where to Spend Bitcoin in Kenya
Back to blog
Cryptocurrency adoption has been on the increase globally, with several countries recognising the potentials within crypto. Kenya has not been left behind with the Central Bank of Kenya announcing its decision to switch to bitcoin as a reserve currency. In his address to the nation, the Central Bank of Kenya Governor, Patrick Njoroge noted that the "decision to shift to Bitcoin is both tactical and logical." He said that with the adoption of bitcoin, the problems associated with the Kenyan shilling would end, saving the shilling from being "the punching bag of IMF."
With crypto adoption on the increase in Kenya, numerous business and service providers have begun to accept cryptocurrencies as a payment option. These business and service providers have recognised the deflationary nature of cryptocurrencies, their security system, and primarily its decentralised nature. We will highlight some of these businesses and what makes them so unique.
Tourist Attractions in Kenya that accept Bitcoin as Payment
Kenya is not only known for its openness to cryptocurrencies but also its fantastic scenery and interesting landmarks that make it a tourist attraction. Taking a trip to Kenya soon? We have handpicked some fabulous places you can visit, and the best part is that you can also spend bitcoin there.
Betty's Place is located in Kimathi Street, Nyeri, Kenya, opposite the historical Osman Alluh building about 150 km from Nairobi, Kenya.  
With its original rustic setting, you can enjoy a serene and relaxing environment as you enjoy your meals. You can also enjoy a unique blend of Kenyan and African culture, making it an impressive tourist attraction. With breakfast, lunch, and dinner options available for tourists, you can never have enough of the numerous delicacies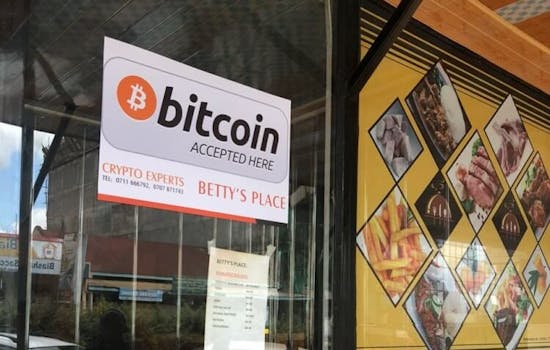 Betty's Place is best known for its unique recipe of tantalizing "nyama choma," a goat meat delicacy that is a favourite among Kenyans. You can also enjoy a unique blend of Kenyan drinks and music while enjoying the delicious roast meat. That's not all; Betty's Place hosts training sessions on how to trade in cryptocurrencies every Sunday. With multiple payment options available such as Kenyan shillings, bitcoin, bitcoin cash, and dash, you can enjoy the best lip-smacking Kenyan delicacies. In fact, Betty's Place is the first Kenyan business to adopt cryptocurrencies in its payment options.
Health Land Spa is located in Nairobi, the capital of Kenya. It is the first Spa in the Country to not only accept bitcoin but also accept Dash. You can enjoy a wide range of health and beauty treatment services from well-trained professionals. The customer service is impeccable, with a relaxing and serene environment created to soothe its hundreds of customers.
Its services and products are fully balanced to suit its wide range of customers. You can choose out of its numerous massages and facial options to help enhance physical and emotional restoration.
Services and Products in Kenya that accept cryptocurrencies
You can access certain products and services in Kenya with cryptocurrencies. These service providers recognise the technological potentials within cryptocurrencies and are keen to provide their customers with the very best.
Legibra is a creative studio that majors in designing, branding, development, and outsourcing of infrastructure. Legibra creative studio is located in Nairobi, Kenya, and specialises in creating tailor-made products and services for the specific needs of their clients.
Legibra utilizes the very best technologies and expertise to provide its numerous customers with the very best products and services. Legibra is one of the multiple service providers that accept bitcoin in payment.
Boxlight Electronics
Boxlight Electronics is located at Luthuli Avenue, Skymall Avenue 3rd Floor Room 501& 502. The electronics company distributes a range of electrical gadgets, which include Television sets, home theatres, among other home appliances. The best part is that you can use bitcoin and bitcoin cash to make payments for these appliances
With one of the most efficient customer representatives, you can be assured of quality products with reliable customer service.
This is not all; you can purchase products from Dell, Overstock, Amazon, eBay retail shops in Kenya in bitcoin. Cryptocurrencies are gradually becoming inculcated in the financial ecosystem of Kenya.
Yellow Card provides the easiest and safest platform to buy and sell bitcoin in Kenya, which you can use anywhere you like. Set up your Yellow Card account today and spend bitcoin conveniently in Kenya.
Sign up for our weekly newsletter
Similar posts
Recommended for you based on the article you just completed
---