Crypto Scoop: SOL Gets Off to a Flying Start in 2023 As Crypto Adoption Continues
Crypto Scoop
Back to blog

Yellow Card
January, 6 2023
Crypto Scoop
---
On this page
With the new year comes exicting new initiatives as Solana starts the year with price gains.
Happy new year! The crypto community began the year with fascinating new initiatives as countries revealed their plans for 2023. In this edition of the crypto scoop, we review:
Price moves and predictions for top cryptocurrencies
Doge Foundations' announcement of a funding initiative
Crypto regulation in Morocco, Indonesia, Russia
Turkey's new blockchain initiative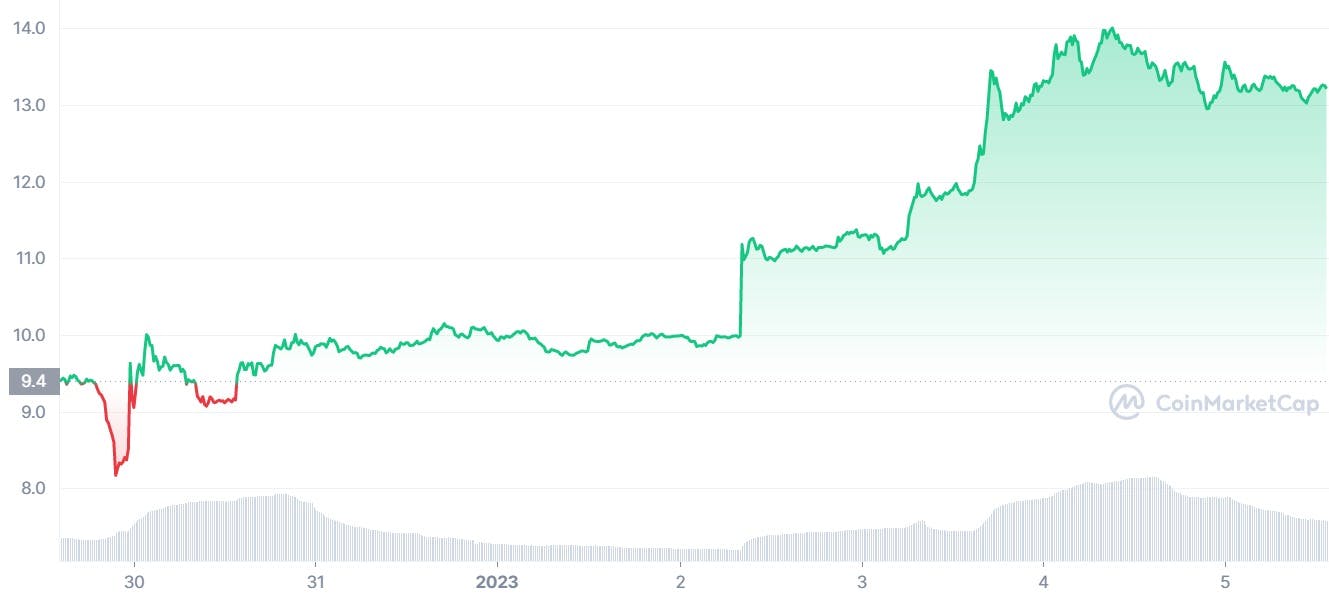 Top Cryptocurrency Prices and Milestones With Projections for 2023
While top cryptocurrencies experienced price dips in 2022, there were notable milestones for the crypto community. According to Reddit, Bitcoin was the most searched cryptocurrency in 2022, while Ethereum experienced a 338% increase in transactions. In fact, in 2022, the Ethereum Name Service (ENS) registered over 2.8 million domains.
2023 began with BTC trading above $16,500 and ETH above $1,200. Solana, which had been under fire following the crash of the FTX exchange, started 2023 with a bang following a 14% price gain. In another win,  Lido, Decentralised Autonomous Organisation, now holds the highest DeFi Total Value Locked (TVL), overtaking MakerDAO (MKR) following a 17% increase in the new year. 
The sale of 704BTC by popular bitcoin holder, Microstrategy, valued at $11.8 million, shocked the cryptocurrency community, but Microstrategy has since clarified the transaction was made for tax purposes. While rounding off the year, Microstrategy bought 810 BTC, bringing its total holding to 132,500.
Certain crypto stakeholders have made predictions for 2023. Despite a terrible 2022, the World Economic Forum says cryptocurrency is here to stay. According to the  international non-governmental and lobbying organisation, as reported by Dante Disparte, cryptocurrency will remain a crucial component of the "modern economic toolkit." The forum is optimistic that cryptocurrency will break through this year. 
Brad Garlinghouse, the CEO of Ripple, stated in a thread on Twitter on January 3 that he is "cautiously optimistic" that the United States will achieve "breakthrough" regulatory clarity for the cryptocurrency industry in 2023.
Replying to a tweet asking users what they were bullish for in 2023, Vitalik Buterin, Co-founder of Ethereum, shared some expectations for the year. This includes reaching a new milestone for rollup scaling as per the Ethereum roadmap and the rollout of the Ethereum Improvement Protocol (EIP) 4884 in 2023. 
Dogecoin Foundation announces new fund for core developers
The Dogecoin Foundation contributed 5 million DOGE, or approximately $360,000 at the time of writing, to the ecosystem's development. The new fund for Dogecoin Core developers will let them promote the ecosystem in 2023. 
The Dogecoin Foundation reports that the fund will be kept in a new multi-signature wallet that its members run. The team commented: "The DOGE held in this wallet will disburse rewards to developers of Dogecoin Core for work on all contributions, no matter how big or small."
Crypto Regulation in Morocco, Russia, Indonesia and Italy
According to a Moroccan news outlet, a proposed cryptocurrency law to protect people from the risks common in the cryptocurrency ecosystem will be released in Morroco following a series of discussions and background work.
The State Duma, the lower house of the Russian parliament, has received a proposed law on the digital ruble. The legislation modifies several legal acts to make implementing the new form of national fiat easier and introduces rules governing how it will be issued.
As a part of its reform of crypto regulation, Indonesia will create a crypto exchange in 2023. The platform is planned to be launched before a shift of regulatory power from commodities to securities authority. Additionally, the Italian Senate approved the new tax rate for crypto trading as part of the budget legislation for 2023.
Turkey Introduces New Blockchain Initiative
Turkey announced a blockchain-based digital identity app after its central bank finished its initial CBDC tests. Turkey intends to use blockchain technology for the online public services login process. Turkish citizens will be verified when logging in to E-Devlet, the digital government portal used in Turkey to access various public services using a blockchain-based digital identity.
Turkey's vice president, Fuat Oktay, declared at the Digital Turkey 2023 event that people could access e-wallet applications using the blockchain-based digital identity.