How to Buy Bitcoin with Mobile Money in Uganda
Back to blog
We are delighted to announce that you can now buy bitcoin with mobile money in Uganda!
With mobile money providing a faster way to access ugx, we have added this option so you can fund your wallet and buy bitcoin smoothly, faster and more securely in Uganda on Yellow Card. Furthermore, you will also be able to withdraw bitcoin to mobile money easily. So you can send bitcoin, ethereum or tether to your Yellow Card account and cash out to mobile money in an instant.
We will walk you through the simple process here: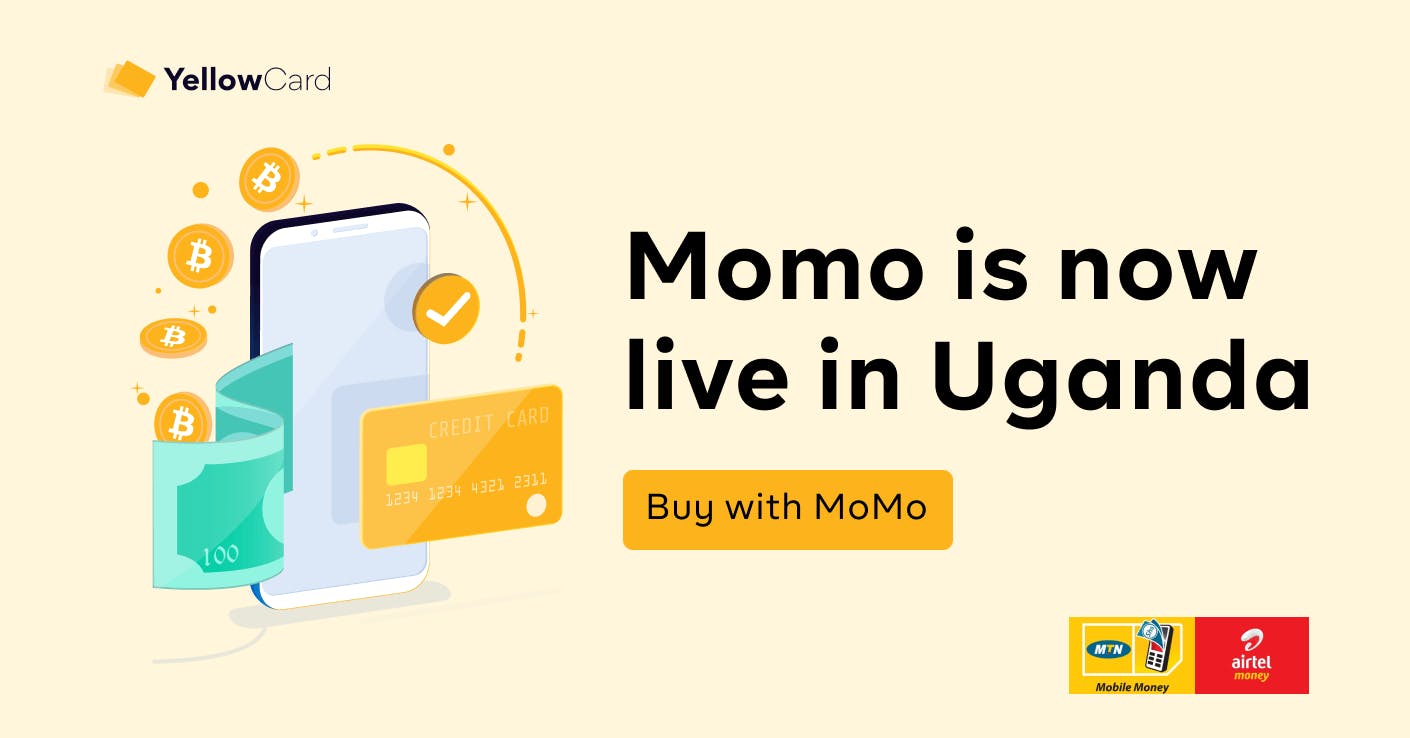 How to buy bitcoin with Mobile Money in Uganda
To buy bitcoin with mobile money, you must have a Yellow Card account and it is very easy to create one. Simply visit web.yellowcard.io or download our mobile app from your app store and provide the required information. This should less than 5 minutes. Once you have created your account, your UGX and bitcoin wallets will be activated. The next step is to fund your UGX wallet. To do this:
Sign in to your Yellow Card account
From your dashboard select deposit
Choose the Mobile Money option
Enter the amount you want to deposit
Enter your mobile number and select your mobile money provider ( MTN or Airtel)
Confirm the deposit information and authorise the transaction on your mobile device.
Your account will be credited instantly with the deposited amount.
Now that you have deposited ugx into your account, go to your dashboard and select Bitcoin. Enter the amount you want to buy and confirm the details. Your bitcoin wallet will be added to your wallet immediately.
How to withdraw bitcoin with Mobile Money in Uganda
You can also sell bitcoin on Yellow Card and withdraw your money directly to Mobile Money. This may be bitcoin you already have in your Yellow Card wallet or you can also send from other external wallets to your YC wallet and sell.
First, from your dashboard go to your bitcoin wallet and sell the amount of bitcoin you want. Then to withdraw the money:
From your dashboard, select withdraw
Select Mobile Money
Enter the amount you want to withdraw
Enter your mobile phone number and Mobile Money provider
Confirm the withdrawal details and input your 4-digit PIN
Your money will be instantly sent to your mobile number.
In addition to the bank transfer option, you can now buy and sell bitcoin instantly in Uganda with the mobile option.
Sign up for our weekly newsletter
Similar Posts
Recomended for you based on the article you just completed
---