How to Buy Bitcoin in Ghana with Mobile Money
Back to blog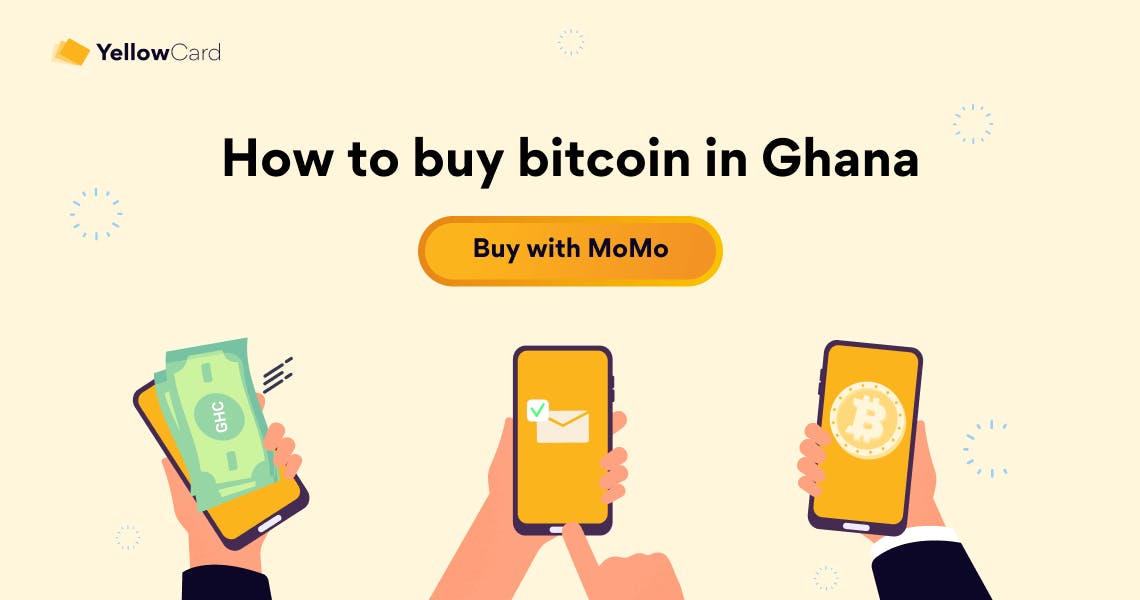 Bitcoin has over the last couple of months gained popularity thanks to its usefulness in everyday life. Primarily, bitcoin was created to ease sending and receiving money regardless of your location. It was designed to be a better alternative to using fiat money because of the many restrictions often encountered while using fiat.
For instance, think about sending money to Nigeria from Ghana. Even though these are neighbouring countries that you could travel to within a few hours, wouldn't you be shocked if you learnt that it would perhaps cost about as much if you were to send money to Nigeria via wire transfer as it would if you decided to put the money in your bag, took an airplane from Accra to Lagos to physically hand the money over?
Okay, that's a bit of a stretch, but it really does get that difficult when sending fiat within Africa.
However, when bitcoin was created over a decade ago, it was for reasons such as this, that it was created. Because with bitcoin, the processes that make sending money expensive and time-consuming are solved with the help of the blockchain.
Thankfully, more people around the world have come to realise the benefits of bitcoin over fiat currencies (a fancy name for paper money) and interest has risen significantly in how to buy bitcoin in Ghana and how to use it in place of the traditional option.
Where to buy bitcoin in Ghana
Ghana is one of the African countries where it is projected that bitcoin would make the most impact mainly because it offers a way to, not only send money anywhere in the world but also to make money. And because of this, you and many others are curious about how to buy bitcoin. You have come to the right place because you will not only learn how to buy bitcoin, you will also learn where to buy it safely and at the best rates.
Knowing where to buy bitcoin safely in Ghana is important because, with the increase in demand for bitcoin, we have also seen an increase in scams related to bitcoin. So, knowing how to avoid being a victim of a scam is crucial.
One of the easiest ways to buy bitcoin is through cryptocurrency exchanges. And while you will come across many options, as a Ghanaian, your primary focus should be finding a secure platform that offers you the ease of buying bitcoin with cedis.
And leading on that front is our crypto exchange, Yellow Card. Even though you may think that crypto-related things are complicated, Yellow Card makes sure that your dealings with cryptocurrency are easy, simple and transparent. We make it easy for you to not only buy bitcoin in Ghana with cedis but also buy it instantly with mobile money. This means that with any amount you want, you can buy bitcoin either to send to someone else anywhere in the world or to keep in your bitcoin wallet as a form of savings or investment.
How to buy bitcoin with Mobile Money
To buy bitcoin with mobile money in Ghana, you can easily access the Yellow Card web app from a browser on any device or download the Yellow Card app from the app store or play store. Follow these simple steps to buy bitcoin on Yellow Card:
Sign up for a Yellow Card account
To sign up, you will be required to provide basic information about yourself to register. This usually takes about 3 minutes.
Fund your account
To buy bitcoin in Ghana, you will need to fund your account with GHS. We make this easy with Mobile Money. From your dashboard, tap Deposit and select Mobile Money. Follow the prompt to instantly deposit the amount you want. This will reflect in your account immediately.
Buy bitcoin with mobile money
Select Bitcoin on your dashboard once logged into your account and enter the amount you want to buy in GHS, USD, or bitcoin. Once you confirm the transaction, your bitcoin will be added to your wallet. You can send to other Yellow Card users for free or send to other external wallets. You may also save it securely in your wallet until you need it – the choice is yours!
How to withdraw bitcoin to Mobile Money
Using Yellow Card does not only make it easy for you to buy or send bitcoin, but you can also receive, sell and withdraw bitcoin through Mobile Money with ease. That means if your friend or family member or business associate were to send you money in the form of bitcoin, you can easily withdraw it through Mobile Money on Yellow Card. 
Once you have given the sender your bitcoin address and the bitcoin is in your Yellow Card account, here's how to withdraw it:
Log in to your Yellow Card account
Select Bitcoin and sell the amount of bitcoin you want to withdraw for GHS. Your fiat balance will reflect the amount you just sold.
From your dashboard, select Withdraw and choose Mobile Money.
Follow the prompt to withdraw the specific amount you want to your MoMo number.
And voila! You have successfully withdrawn bitcoin through Mobile Money.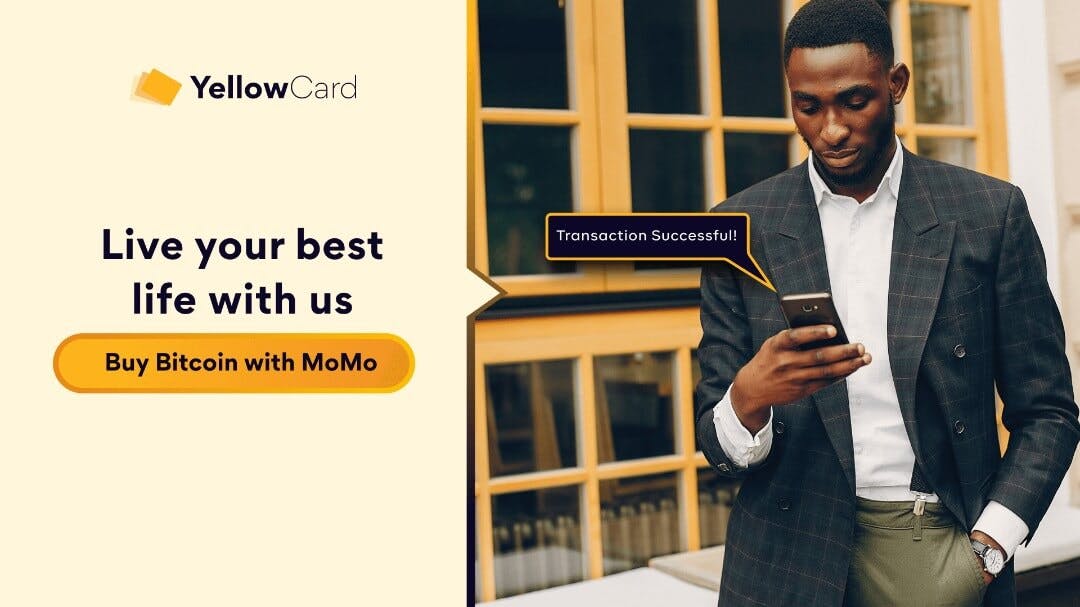 Why use Yellow Card?
Other than the ease that Yellow Card brings to bitcoin exchange, we also offer highly competitive market rates so that you can trade cedis and bitcoin seamlessly. In addition, Yellow Card also offers a referral bonus of up to 20% of the trading fees to users who invite others to trade on Yellow Card with their unique referral link. This way, you can make money every time your friends trade on Yellow Card. 😀
Sign up for our weekly newsletter
Similar posts
Recommended for you based on the article you just completed
---